Hello there! :)
I've been having the etude house (blahblah long name) bb cream for a while, and I thought, I should review it cz I really really love it <3
In fact, I do wear it regularly! :)
From the website: *It's their current top global product btw*
WHY WE LOVE:
-zero oil (no, not really, actually, there's little oil control in my opinion.. unfortunately)
-Coverage Up
(YEAH! FACT FACT FACT!!! :DD Medium to full coverage, buildable and easily blendable in my opinion. I like sheer coverage though, so I mix it with my moisturiser- I know, like I haven't heard of chemicals possibly reacting etc. hmmm.... I'd liketo try the Nymph Aura when I get around to buy it. It does help sheering it out and giving more dewy look. Even more dewy than the bb cream's finish on its own)
-Longer lasting
<span style="font-size: small;">(emm, this, I'm not so sure. long lasting enough but it slid and come off quite a bit to reveal redness. however, I don't put more than 2 blobs of this bb cream, so that might be the reason... I think it's decent though, not disappointing in that sense)
</span>
-Keep Your Dazzling skin all day like a precious pearl
<span style="font-size: small;">Yeah, quite there. slightly dewy. but ever so slightly (APART from when you just applied it... looked super dewy when fresh. I hoped it's bright and dewy all time!)
</span>
Why I LOVE IT :
<span style="font-size: small;">-SPF30 YAY :DDD
</span>
- "bright fit" --> actually skin tone and not gray.. unlike some other bb creams...
I got mine in #w15 Sand beige (darkest colour..?) and while sometimes, i feel like it's slightly darker (the residues on my hand tell me that it's darker than the rest of my hand. but not so noticeable :) so oh wells )
-It photograph well! <3 :) honestly despite being a little disappointed in the colour matching, it doesn't show up badly in picture :) nor does it seem odd. it seems light in flash photography (i think it's the spf? :/) otherwise, it makes my skin looks even <3
freshly applied, dewy dewy dewwwyyyy!~ :)
after three hours. not much of the dewy finish, but it definitely look better than my bare skin :DD
4/5
LOVE VERY MUCH BUT IT'S QUITE EXPENSIVE IN SG (SGD40, in the Philippines, if im not mistaken, it's around USD20 D:)

Last thing,
ETUDE HOUSE IS REVISING THEIR PRICE THOUGH D: I'm hoping it's for the better (especially for their bb cream and some skincare <3) But.. NO MORE 7% member discount. UGH!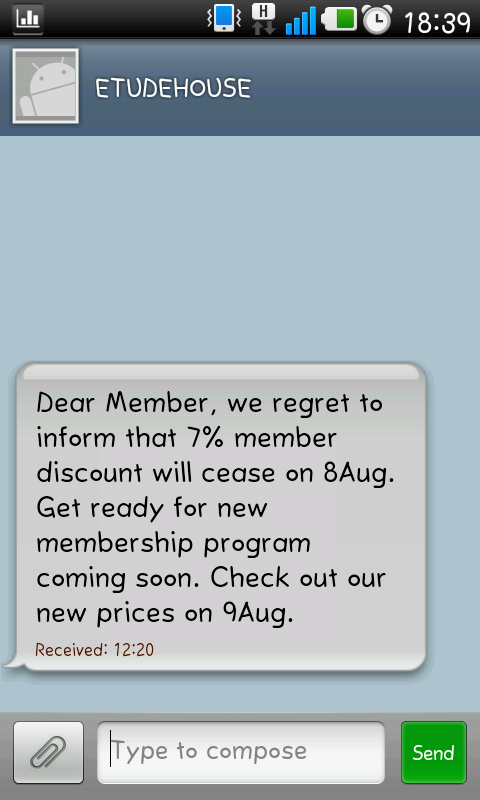 <span style="font-size: small;">AAAA XD CROSS FINGERRSSSSS! :)
</span>
<span style="font-size: small;">AND WATCH OUT FOR KYARY'S PUFFY EYE MAKE UP PICTORIAL :DD It's something I've taken a liking :DD
OKAY>> ADIOSSSS!~</span>