Hello there peeps, LOOOONNNNGGG time no see. Gosh, don't I miss this blog.
In this post, I will be talking about the abovementioned product (well, duh. sorry for being a bimbo guys, I think my blog's name is kind of self-explanatory)
First of all, I always tried out the testers in Watsons and I felt like buying them. I mean, come on, while trying it out on my hand, my hand  felt so soft and smooth and bright and what not. THE LINES DISAPPEAR (again, I know it's silicone but STILL! :DD)
So, I asked a friend to give me some to try it out and she gives me a cute tiny little jar of it...
....... eyy, I forget to take a picture of that 0.O
So, anyway, let's jump straight to the review then (since I'm so rambly)
"Lightweight primer smoothes skin while evening out skin tone with color correcting pigments that neutralize redness and uneven color. Wear alone or under foundation" --> product description
Ok, that's the primer I'm talkin about
here are the before-after photos of myself
I know, I know, those aren't exactly the BEST - MOST GLAM photo I cn take but trust me it's not edited so it's "most reliable"
Yes, pores are a little blurred out, BUT OOPS, they're still there... And sorry for panda eyes, can't help it bro....
surely looks BRIGHTER TOO <3 MATTE and SMOOTH ENOUGH if seen from afar
BUT THEN....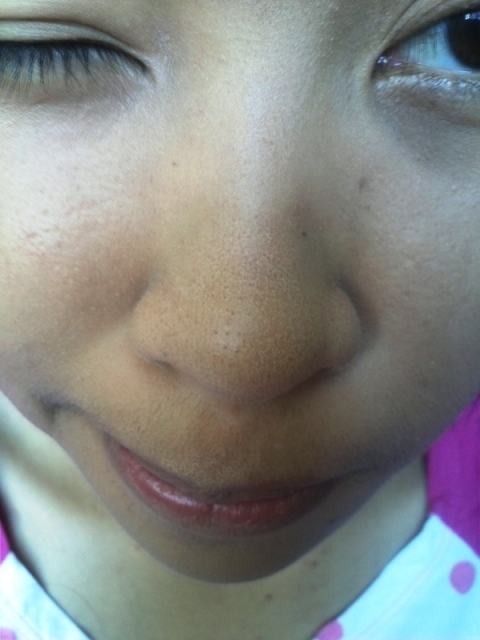 LOOK AT THAT, it's like, putting glue on my face and then when i put on bb cream, it looks like tt. sure enough, from afar it doesn't look bad but hello I'm looking like a clown with blobs of bb cream like tt ((etude house precious mineral bright fit in W15 sand beige, which I'll review after this, and no it's not because the bb cream is unblendable or anything like that)) EWW MAX. True, that's probably why my make up stays on like nothing else BUT NOOO I DON'T WANT THAT :((( 
:( soooo.... rating
i'd give
2/5 :((
Sorry, most probably ain't buying it. I might as well still use my moisturiser which allows me to still retain  the bb cream dewy look (which i'm all for, maybe if you're looking for a matte look, this baby ain't bad. but no for me :( )
So, that's it, SEE YOU SOONEST GUYS <3